 
SAMSUNG With Wireless Subwoofer 200 W Bluetooth Soundbar (Black, 2.1 Channel)
Manufacturer Warranty in 1 Year
7 Day's Return Policy
GST Invoice Available
Soundbar with Subwoofer
Courtesy of its included subwoofer, the Samsung Soundbar helps boost the bass to create rich and impactful audio that sounds immersive regardless of the genre of your music. So, whether you're playing thumping beats or soft melodies, this soundbar offers a cinema-like experience.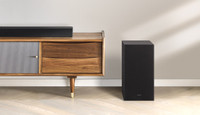 Bass Boost Mode
On activating the Bass Boost Mode, this soundbar increases the bass and lets you get engrossed in your favourite music.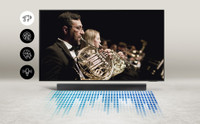 Adaptive Sound Lite
When you play a particular track, this soundbar senses the source of the sound and accordingly optimises the audio. So, whether you're watching an interesting and loud sport or a series with mellow dialogues, this soundbar enhances the audio with improved clarity for an entertaining time.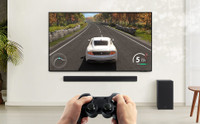 Switch to Game Mode
You can purchase a gaming console separately or connect your own gaming console with this soundbar and enjoy gaming with high-quality audio. Furthermore, its auto settings enhance the audio, and cross-talk cancellation technology eliminates unwanted sounds. So, you can hear sounds coming from the precise direction and increase your chances of winning the game.
Remote Control Operation
You can control various functions of this soundbar, such as volume, power, and sound effects with a single compatible Samsung TV remote.
7 other products in the same category: